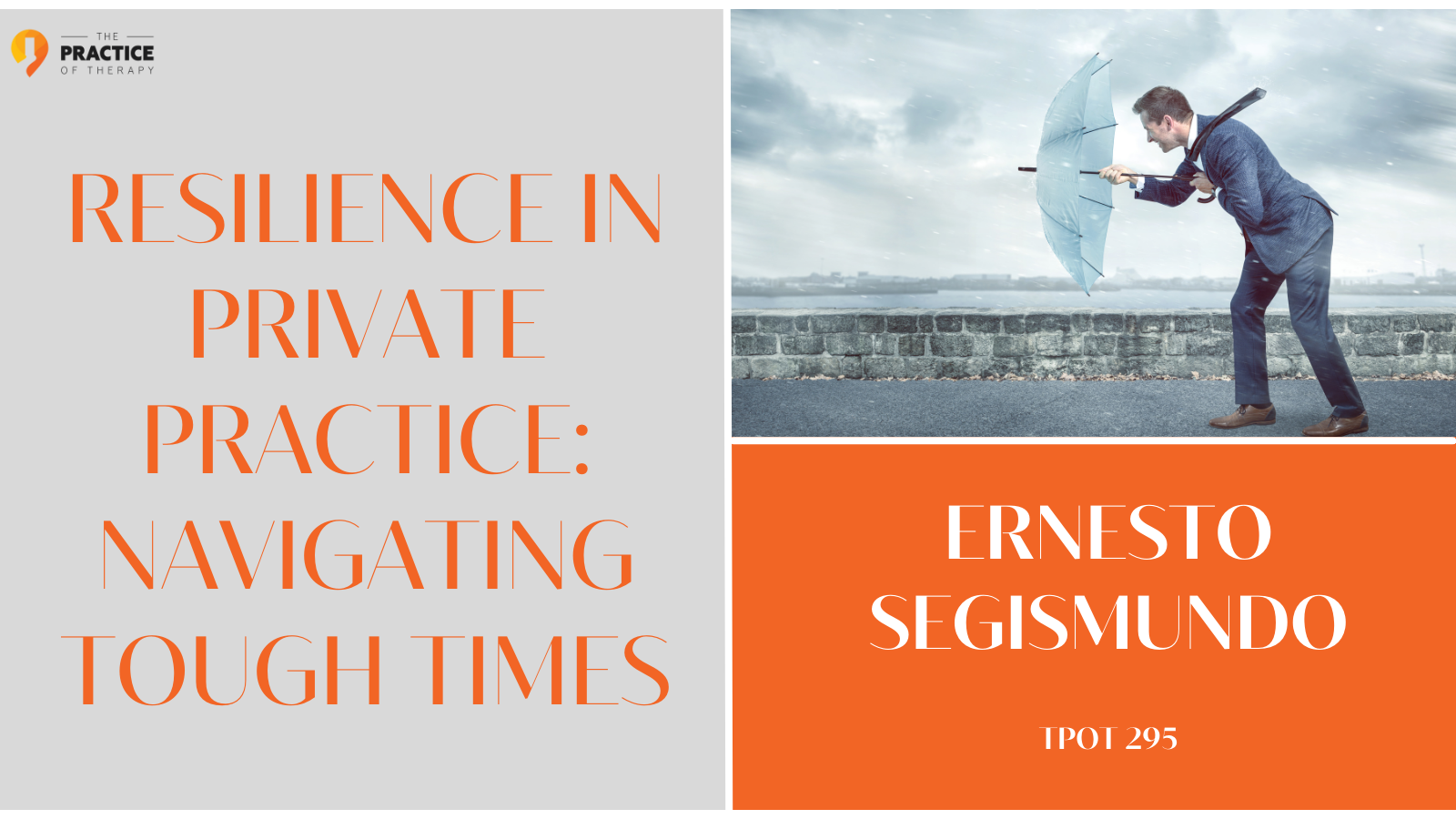 With a delicate balance between personal crises and professional responsibilities, Gordon Brewer and Ernesto Segismundo unravel the intricate web of challenges entrepreneurs face. The lack of control emerges as a central theme as the duo reflects on the unsettling reality of relinquishing authority during difficult times. In a world where entrepreneurs thrive on decision-making and action, this loss of control can trigger anxiety and stress, further complicating the journey through adversity. Tune in as they delve into the profound impact of tough times on mental health.
Meet Ernesto Segismundo
Ernesto received his undergraduate degree in psychology from Biola University and received his Master of Science degree in Clinical Psychology from Vanguard University. Ernesto has ten years of clinical counseling experience working in settings such as group homes, domestic violence shelters, churches, and outpatient programs. Ernesto treats marriage and family relationship problems. Ernesto also treats individuals suffering from depression, anxiety, and addiction. In addition, Ernesto treats families and individuals as victims of domestic violence and physical, sexual, and emotional abuse. Ernesto utilizes EMDR (eye movement desensitization reprocessing) to treat PTSD.
Along with Ernesto's counseling experience, he has conducted various classes and seminars concerning relationships and mental health-related topics such as parenting, substance abuse, maintaining healthy marriages, private practice social media and video marketing, and managed care practices. Ernesto is an approved BBS continuing education units (CEUs) provider for LMFT, LCSW, LEP,LPCC for the state of California.
Ernesto is an adjunct professor at Hope International University and has a private practice with offices in Pasadena, San Pedro, Huntington Beach, and Brea California. Ernesto also supervises three pre-licensed therapists in his private practice (California Altura Vista).
Ernesto created FYLMIT.com to help mental health professionals develop a web-based presence through video and social media marketing. Recently, Ernesto has dedicated much of his professional career to helping mental health therapists learn how to market their practice through providing workshops and seminars.
Coping With Tough Times As Entrepreneurs
Coping with tough times as entrepreneurs can be an immense challenge. Both Gordon and Ernesto are facing difficult situations in their personal lives while simultaneously managing their businesses. One of the key challenges entrepreneurs face during tough times is the lack of control. Entrepreneurs are used to being in control of their businesses, making decisions, and taking action. However, when faced with personal crises, they often have to relinquish control and trust others to manage their businesses. This loss of control can lead to anxiety and stress, making it even more challenging to cope with tough times.
The Entrepreneurial Roller Coaster: Unpacking the Weight on Mental Health
Another aspect of coping with tough times as entrepreneurs is the impact on mental health. Ernesto shares how the heaviness in his heart has affected his social media presence and overall well-being. Entrepreneurs are often driven individuals who invest significant time and energy into their businesses. When faced with personal crises, it becomes difficult to maintain the same level of focus and dedication. The emotional toll can lead to feelings of burnout, isolation, and even depression. It is crucial for entrepreneurs to prioritize self-care and seek support from loved ones or professionals during these challenging times.
The Transformative Influence of Open Communication in Entrepreneurship
Gordon and Ernesto emphasize the power of vulnerability and open communication. Ernesto shares his personal experiences and struggles, allowing listeners to relate and empathize with his situation. Entrepreneurs often feel the need to project strength and resilience, fearing that showing vulnerability might be perceived as a sign of weakness. However, sharing one's challenges and seeking support can foster a sense of community and understanding. It is essential for entrepreneurs to surround themselves with a supportive network of peers, mentors, or industry professionals who can offer guidance and empathy during tough times.
Navigating Hope and Self-Awareness in Entrepreneurship
Finding hope in dark times can be challenging, especially for entrepreneurs who are constantly juggling the demands of their businesses and personal lives. However, it is possible to find hope and resilience even in the midst of difficult circumstances. One of the key themes that emerge from the podcast is the importance of self-awareness. Both Gordon and Ernesto acknowledge the difficulty of slowing down and saying no to certain things. This self-awareness allows them to recognize when they need to take a step back and prioritize their mental and emotional well-being. They acknowledge the emotions that arise during tough times, such as anger, resentment, sadness, and anxiety, and understand the toll it can take on their overall health. This self-awareness enables them to seek support and find healthy coping mechanisms.
Harnessing Self-Awareness, Support, and Strength
Coping with tough times as entrepreneurs is a multifaceted process that requires self-awareness, resilience, and support. This episode sheds light on the challenges faced by entrepreneurs when personal crises intersect with their professional lives. By acknowledging the lack of control, prioritizing mental health, finding balance, and embracing vulnerability, entrepreneurs can navigate through tough times with greater strength and resilience. It is crucial for entrepreneurs to remember that seeking help and support is not a sign of weakness but a testament to their determination and commitment to both their personal and professional well-being.
Gordon Brewer
Okay, if you'll do a little blurb
Ernesto Segismundo
Hi, everybody, thank you so much. Go on. And thank you for letting me be on your podcast. Again. This is a second time I'm here. So, again, my name is Ernesto. And I am a licensed marriage and family therapist. I own a group practice and multiple other businesses. And yeah, today, Gordon, I think we're going to talk about hoof tough times, and how we manage it as owners of practices and businesses. Right. Right.
Gordon Brewer
Well, hello, everyone and welcome again to the podcast. And I'm so thrilled to have back with me my good friend Ernesto Sega. moonbot. Hey, Ernesto,
Ernesto Segismundo
thank you so much again for having me.
Gordon Brewer
Yes, yes. So, Ernesto and I have really, really connected over this last year, just in different ways. And just part of it is is parallel journeys and our life and all of that sort of thing. But Ernesto as a start most of the podcast, why don't you tell folks just a little more about yourself, who you are, although I can't imagine that anybody listening to the podcast doesn't know about Ernesto at this point.
Ernesto Segismundo
Thank you. Thank you. Yes. So I'm a serial entrepreneur, I create businesses. I have a group practice in California, we're also licensed here in the state of Nevada. And lately, I have been and I do retreats and summits as well, too. So that's one of my passions. And yeah, so former videographer, many of you have maybe heard of filament.com I'm actually bringing back to mit.com. In the next few months here, I noticed that video marketing in AI, artificial intelligence is coming back. And so you know, there's a lot of great features out there for videographers and folks, so yeah, that's, that's why I'm in a nutshell.
Gordon Brewer
Awesome, awesome. Well, I'm so glad you're back with me on the podcast. And this will probably happen several times in the future. I'm sure we'll we'll be swapping podcasts. I've been on Ernesto, his new podcast tell folks a little bit about that.
Ernesto Segismundo
Yeah, it's called the knotch typical psychotherapist podcast is basically a podcast for all of you who are not your typical psychotherapist, who I believe that are innovative, creative, and forward thinkers and risk takers, you know, in this field. So that podcast is definitely dedicated to all of you.
Gordon Brewer
Yes, yes. So well, I know, Ernesto, our conversation we had talked about, I think, as I mentioned, we've got kind of some parallel journeys here. And I know, one of the things for you here recently, that you've been very vulnerable with and shared a good bit about is just having to care for your dad, who's kind of in that last season of life, and I know for me, same situation with my wife, but how are you coping?
Ernesto Segismundo
You know, that's a very challenging question to answer. Right? The coping goes out the door with so many things, especially if you're an entrepreneur. And, you know, for those of you notice, the tone on my social media posts has drastically changed. In fact, I'm kind of non existent on that. And I had no idea the how powerful the heaviness in my heart is. And you know, at the same time when you're juggling businesses, it not only interferes, but also makes life you question a lot of things, right, that one of the things that I I am experiencing is a level of loneliness, and the lack of control. So just to back up my dad, right now he's in hospice care. And there's levels of hospice care, right? There's, there's folks who are just bedridden, they cannot exist, their bodies are pretty much they're just they're waiting to die. Basically, that's what it is. But the type of hospice care that my dad is in is basically you know, he, he's, he's alive and well, he moves around. Sometimes he doesn't, he's in deep dementia, and he has a type of dementia. That is, I don't know if you're familiar with the movie Benjamin Button, where he he gets younger and younger and younger, right, but he has a mind of a very old individual. So my dad has, you know, a mind of a toddler, but a body of an 89 year old man. And so he tries to get up and moves around and thinks he can still do things. And it's a challenge not only for my family, but also For the nursing, so, you know, I'm here in Vegas. My, they're, they're taking care of him. And, you know, when you have that gap not only in physical gap, but mentally all the things that you're thinking about, is he, okay, he's gonna get hurt all of those things even though that there are trustable nurses that would take care of them. But another layer today, this is worrying about my sisters who are caregivers for him. And so, you know, I'm here trying to work all of my businesses out, right, just trying to sustain things, while at the same time this thing is going on, you know, across the seas.
Gordon Brewer
Right? Right. Yeah. I feel for you, Ernesto. Because it's, it's just uncanny how parallel are things my wife is also in hospice care. And then also, here, more recently, my mom who was 88, who lives five hours away from me, so I can't really drop everything ago. But like, like you, it's fallen on my brother and sister to kind of take care of my mom who's had an infection in her elbow, they can't seem to get cleared up. And she's in the hospital now. And all of that sort of thing. So, yeah. And then juggling, juggling what we're doing in our businesses trying to maintain a practice, maintain just the other the other entrepreneurial things that I know, we're both involved in. Yeah, you're really changes your perspective, and I don't know what you're experiencing. But I think the hardest thing for me is giving myself permission to just slow down and just say, notice some things.
Ernesto Segismundo
Yeah. Yeah. And, you know, that's, that's, that's the difficult part is the noticing, you know, and there are times when I just want to be a way and I gotta be honest with you. Anger, resentment, sadness, anxiety, to a whole new level, just really, really goes through me, you know, and it's a daily thing, even when people say, How do you take care of yourself, or here's some five self care tips, even that kind of does not resonate with me, because, you know, it sucks to be in this body. Because of all of the emotions and, you know, I understand how people get so taken over the edge, that the reason, you know, leaves them just because of all of these things going on, right? But what really keeps me sustained is my faith, no matter how difficult it is, you know, I try to tap into that spirituality that I'm not alone. But even that kind of causes a lot of anger. But at the same time, I bounce back and go, Okay, you know, what, if it's not for God, if it's not for anything, I, there's got to be a reason for all of this, these things that that that I'm going through. So, you know, I want to be able to one day tell a story, that, Oh, my gosh, I'm going to make it I'm going to make this happen. I'm going to make everything okay? And God's gonna make it okay. So right now, there's tons of challenges in front of me that it seems like the mountain is just piling and piling and getting, you know, but at the same time, I have moments of clarity I have moment once I have those areas, right there moments of energy clarity, and just being able to stay the course. Then I go for it. You know, I work out I walk, I go on tick tock. I call a friend to talk. So that window of time, but there are times Gordon, where the loneliness is just so overwhelming. You just want someone to give you a just a glimmer of hope. Right. And so I think also too, my mom passed away in 2014. This is activating a lot of things within my body as well too, and in my mind, about how I wasn't fair that I was I was working a lot just trying to make ends meet during that time. And it's almost as if it's a repeat pattern to this day. And it's bringing up a lot of that. I mean, you know, I used to be so free to just get on a plane and travel wherever, wherever I want to travel right? But now I have to attend to my businesses to make sure that what's going know what the economy what's going on with our business, or we all have things in place that would sustain our business. Right? So that is pretty much where I'm at at this point, and how I'm navigating through it. But what the one thing I do appreciate is these random beautiful text messages from our colleagues and friends and families. Just offering their prayer. I mean, that's, I don't expect them to do much. But that in itself is enough. I mean, I've had a lot of, I had a handful of people offer some other things to me, you know, not all the time, maybe even finances. And that really, really helps out big time with the psyche, especially in my spirit.
Gordon Brewer
Right, right. Yeah, one of the things you said that I thought about was being able to recognize those small moments of joy, during a big period of just heaviness, or being able to find those little, those little bits that just kind of show up. Like you said, give that little glimmer of hope of recognizing, this is just a season. That's something that I have to remind myself of every single day. And it's kind of rinse repeat. And and like you draw a lot on my faith. It's nice, having a community around you, when you're when you're going through these dark times. You know, in the site, at the same time, it's like, okay, I don't want to burden anybody with this, but it's nice to have them there. Yeah, yeah,
Ernesto Segismundo
I think you hit it on the, on the head right there and nail on the head, that you don't want to be a burden to people, you know, even I, I'm honest about what's going through, you know, with me, and I'm honest about those things. Now, I think it used to be, hey, I'm fine. Just because I want to portray this, or Nestle's got it all under control. But, man, this time of my life, it's I, I joke around, you know, when people ask me, you know, how are you doing? It's like, well, it sucks to be me right now. And I wouldn't, I would not want to put this on anyone. But at the same time, you know, when I say that out loud, I look back at people of faith, right, and how they've made it. I've been watching documentaries of people who've been at their lowest point. And I do believe that I'm at that lowest point where they come back to become not only a testimony for other people, but a testimony to themselves as far as their resilience goes. So I like hanging on to that I'm hanging on to dear life right now. And you know, I'm sad I am. I'm allowing myself to be sad. I'm allowing myself to feel all the fields because, you know, when you have a father who's fragile, and not being able to do that, to be there with him to this time, you know it, and I wasn't like, I wasn't there for my mom before. When she passed away, I was there when she passed away. She was already in a coma. But I didn't have a chance to say anything else. Right? So this is bringing up a lot. And I'm telling you that the energy level that I experienced every day, it's so it's just a different feeling. I have more empathy. For people who struggle with depression, and anxiety. I have so much empathy for them. And I'm more attuned. I'm more aware, you know, and when someone says, you know, this is a lonely, lonely place to be Oh, my gosh, I have absolutely. Get it. I understand it.
Gordon Brewer
Sure. Sure. Yeah. And that's, that's, you know, it's, you know, the thing about grief, at least what I know what I've learned over the years, is, as I like to say, well put my old fart hat on, just the life experiences is that grief is not something you get over. It's something you move through. Yeah. And when you're moving through it, it's just it's hell. And it's, I can't I don't know of any human emotion that's more intense than grief. Again, just Yeah. And so yeah,
Ernesto Segismundo
it brings up a lot you know, when when you're going through grief and I was telling a friend of mine yesterday, I don't know if you know, I'm pretty sure you know, are Noreen Vander Houben? She she and Debbie Frankel Jenkins Frankl they're both grief therapists with EMDR bands. They're they're very, very steeped in the knowledge of this. And they told Noreen yes was I don't know how you do this. This is I mean, if I can't even handle my own emotion, I can't even understand how you can handle everybody else. Well, you know, it's, it's, you know, she is she went through this with her family as well, too. But oh my goodness, it's, it's a daily daily dose of, I'm going to trust God to get through this mountain. I've been in. I've been more in tune with my faith at this point, and making sure that I stay as centered as much as possible.
Gordon Brewer
Yeah. So what are you learning about how to balance things during this period?
Ernesto Segismundo
You know, nothing. I am allowing myself to be extremely unbalanced at this point. And it will come in because even the idea of balancing is very exhausting. For many folks who are grieving, you know, routine is a different thing. I try to get myself into a routine. So you know, the way that I look at it is through time, and not necessarily a balance perspective. It's time it's wake up in the morning, do this, make sure I take care of myself. Maybe I do some devotions and prayer. So it's more about time. And if I'm feeling an intense, overwhelming, anxiety, or depression, I try to get out as much as I can just for a drive just to give me some relief. But also give myself some moments of silence. And feel all the fields because you and I know many counselors know that emotions come and go. Right, the ebbs and flows of life. That's, that's what it is. So all you have to do is just sit down, fill all the fields, and just hang on to dear life as much as possible. Yeah. So
Gordon Brewer
well, well, my heart goes out to you. Because I know this is, this is a tough period. You know, I guess, what the hope that I hang on to, and then this kind of the thing that I echoes with when I'm when I'm talking with my clients is the fact that this is a season. You know, anxiety has a way of tricking us into thinking we can't handle things. But we do handle it. It might not be without discomfort or without pain, or without sorrow. But we do handle it and we move through it. And it's but it sucks when you're moving through it.
Ernesto Segismundo
Yeah, yeah. It's excruciating. To go through it. Right. Yeah. But it is it's it's part of life. Some people experience difficulty on a smaller scale. And to them, it is real and overwhelming. Some of us has that. The job effect? Yeah, yeah, where everything feels like, everything is just falling out of place under arrest. And it's like, you know, everything about you, your spirit, your body, everything, even the tone of my voice. You know, it's not the same, but I just have to be really, really be mindful of this is not only just a season, but this is a place where I could definitely flourish in the future. So
Gordon Brewer
yeah, yeah. And I think that that's going to be the case, I think there'll be there'll be a great book and memoir to come out of this. And yeah, maybe we can, maybe we can collaborate on that.
Ernesto Segismundo
Back. Yeah. Chapters of all this type of I mean, I can't even imagine what you go through as well, too. Because, you know, I remember you talking about that a couple years ago, or maybe last year and you know, you've been doing it for years before that, and that some difficult situations.
Gordon Brewer
Yeah, it's, well, I just say this not as advice giving, but I know, you know, I experienced my dad's my dad's death in 2019. And what you what you describe of what your dad is going through now is exactly what my dad was. He was diagnosed with Alzheimer's and you know what you said earlier about being being a toddler in a man's body. And, you know, and not recognizing the fact that he can't get up and the caregivers trying to do their best to keep him settled and all of that sort of thing. So understand very well what that's like. But I will say one of the, one of the the holiest moments I can say in my life, or one of the most valuable times I can say is, is having been with my dad when he did pass, and wouldn't trade that for anything. But it's Yeah, so, no, for some folks, this might sound kind of morbid, but it's, you know, it's, it puts us puts us at a different level spiritually, emotionally, all of those kinds of things to where the other bullshit in life doesn't really matter.
Ernesto Segismundo
That's right. Right, right. Yeah, yeah. Yeah. I like that. I like that. There. You put things into perspective, you know, when you're faced with such profound passing, you know, of life and spirit. Yeah, absolutely. Nothing else matters after that.
Gordon Brewer
Right, right. Well, well, Ernesto, I appreciate your vulnerability, especially during this during this season. And I'm so glad we've connected I know, we're gonna be getting together for a retreat here soon. And yeah, and so I know, in the midst of this, you're still working on putting together retreats and summits. And so you want to say what you've got coming up and things that might be of interest to people?
Ernesto Segismundo
Yeah, yeah. So London is coming up in a few weeks. But, you know, next year I'm hosting, and my homes, the entrepreneur retreats. So that's going to be fun, I'm going to be hosting at my houses here in Vegas. And so just trying to get everything prepared for that. If you are interested in doing your own retreats and my properties. Absolutely. You are welcome to do that. So,
Gordon Brewer
yes, well, that's good. That's great. And, you know, I will say that the times that I have grown the most. And just looking at my my own career over the years has always been on a retreat. You know, it's like you go, and you get a totally new perspective by being around other people, right, and allowing yourself to be vulnerable, and putting yourself out there. And it's, it's a retreats are a wonderful way to get very introspective, but also just learn from others, and also allow that there's an element of caring that comes from retreats as well, where you receive from people just kind of validation and and just,
Ernesto Segismundo
yeah, there's a nurturing aspect of it. Yeah, yes,
Gordon Brewer
yes. So absolutely. Well, tell folks how they can get in touch with you, Ernesto.
Ernesto Segismundo
Yeah, well, you can get on Facebook, I'm there. And also on Instagram, it's not hard to find me. I'm also on kav academy.com. You can you can subscribe to my YouTube chat on my my website, my newsletter and all that stuff. So yeah, that's how to get ahold of me.
Gordon Brewer
Right. Right. And we'll have links in the show notes in the show summary. And I appreciate this conversation that and hopefully, hopefully we can bring people down too much. But I think it's important stuff for people to hear.
Ernesto Segismundo
Absolutely. We'll get it. We'll get through all of this. If you're struggling. You know, we'll get through it.
Gordon Brewer
Right. Right. Well take care of our friend. Take care. Thank
Ernesto Segismundo
you for having me again. Yes. All right. Bye. Bye.
Being transparent… Some of the resources below use affiliate links which simply means we receive a commission if you purchase using the links, at no extra cost to you. Thanks for using the links!
Ernesto Segismundo's Resources
Resources
Meet Gordon Brewer, MEd, LMFT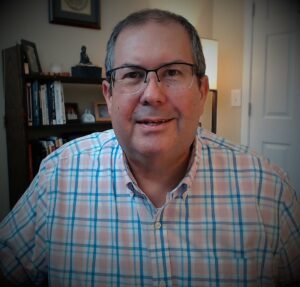 Gordon is the person behind The Practice of Therapy Podcast & Blog. He is also President and Founder of Kingsport Counseling Associates, PLLC. He is a therapist, consultant, business mentor, trainer, and writer. PLEASE Subscribe to The Practice of Therapy Podcast wherever you listen to it. Follow us on Instagram @tpotpodcast, and "Like" us on Facebook.