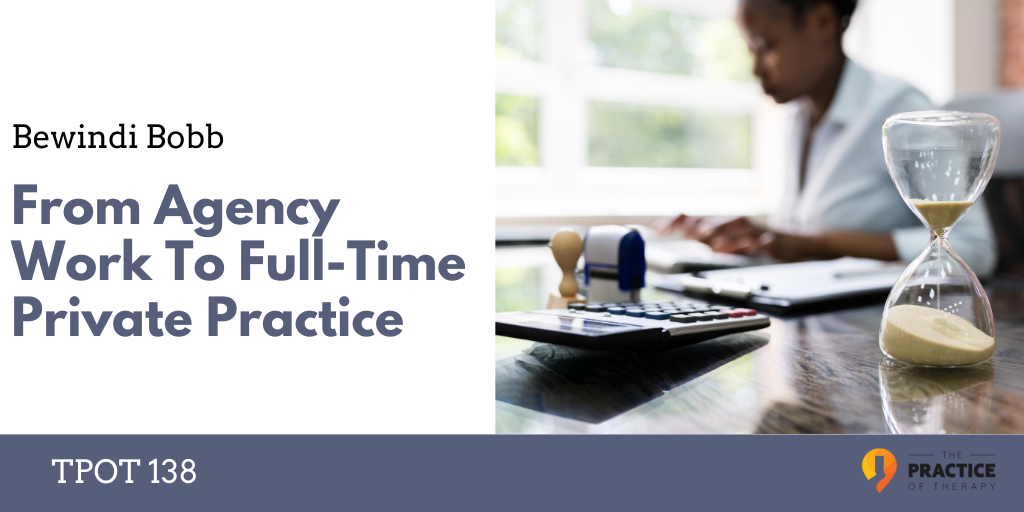 In this episode, Bewindi Bobb, LCSW joins the show to speak about her recent move to full-time private practice. Bewindi explains the mindset shift that is necessary actually to make a move to private practice. First, the thing you need to know before making a move is your purpose. Are you driven to private practice, or are you just jumping on the bandwagon? Plus, Bewindi gives her thoughts on Black Lives Matter and the importance of mental health in the Black community.
Meet Bewindi Bobb
Bewindi was born and raised in the beautiful, gorgeous Island of St. Lucia in the Caribbean. Her journey towards accepting the calling to be a counselor is interesting, but let's just say, she eventually stopped running (insert laughter) and realized that being a counselor is not just a  profession but a God-given and ordained calling and ministry.
Bewindi is super passionate about seeing people become free to live happily and free from emotional baggage, free from whatever is blocking, delaying, or hindering their healing. She loves the opportunity to create a safe space where clients receive permission to express themselves, their feelings, and find themselves while gaining a new and changed perspective.
She helps professionals who are dealing with unresolved emotional conflicts such as depression, anxiety, grief, stress, etc live freely by equipping them with tools to renew their mindsets. She loves to encourage and empower clients and when they apply the tools, they are able to show up for themselves and be their best selves in all areas of their lives. Additionally, she provides Christ-Centered Counseling to whom it applies and for those who request.
With over 14 years of clinical experience, she is driven and fueled by her professional and personal values including but not limited to Faith, Empower, Purpose, Service, Encourage, and Teach. She is so honored to be in this space and knows that whether she is providing therapy, coaching, supervision or speaking to an audience or on her podcast, 'Empowered to Empower You', which can be found on Spotify, Podbean, Apple Podcasts, Google, etc, she is convinced that people are definitely encouraged and ignited.
Focus on Abundance
Bewindi wanted to make the jump to full-time private practice for a long time. However, Bewindi would always focus on why she couldn't make a move to full-time private practice. When in reality, we should be focusing on the reasons why we can make a move to private practice. Once Bewindi made the jump, her schedule filled up! She made the jump into abundance – even amid a pandemic.
Full-Time Telehealth
Bewindi is doing 100% telehealth. She has been authentic and honest with her clients. Most likely, Bewindi will not go to the office for the rest of the year. Most of her clients have adapted and adjusted. However, there are a few clients who miss going to the office. Tennessee has been hit hard with COVID, and many people are switching back to 100% telehealth as well.
Private Practice Isn't For Everyone
When starting a private practice, you have to know your purpose. You shouldn't be doing something just because everyone else is doing it. It's essential to think about and reflect on the why behind your decisions. What is your purpose? Or are you trying to mimic someone else's path? Just because Bewindi has a license, doesn't mean she needs a private practice. Some people actually love working for a group practice. That doesn't mean they need to start a private practice. Overall, think about your purpose before making a jump.
Black Lives Matter
Bewindi has a set of values that anchor her practice and a set of values that anchor her personal life. Faith is a tremendous value for Bewindi. If she combines all of her values, Bewindi believes that Black Lives Matter. Bewindi is honored that 99% of her practice is Black people. One of the messages that Bewindi takes from these times is that we need to invest in our mental health.
Mental Health in the Black Community
Mental health is a stigma in the Black community and the Asian community. It's awful that it took things like this to happen for people to seek mental health. However, Black people have been reaching out for mental health help now more than ever. People are experiencing so many losses, and they are so angry. The Black Lives Matter movement gives an outlet for our feelings. Bewindi is thankful that people recognize the need for mental health care. It's time to permit yourself to feel without being judged.
Gordon Brewer:
Well, hello everyone. And welcome again to the practice of therapy podcast. And I'm so glad to have with me a new friend. And we, um, we, we realized when we were chatting before the podcast that we probably crossed paths and didn't didn't know it, but I'm happy to have the Wendy Aquilla Bob with me from Memphis, Tennessee. So she's a hometown girl to me being so welcome. Be windy. Yeah. So good to get to talk to you. Um, we were just sharing a, just a little, little backstory here as we get into the interview, but, uh, the windy and I w it turns out we worked for the same agency back in the day. And so, but, uh, but Wendy is, I start with everyone. Um, why don't you tell folks kind of your private practice journey and kind of your story of how you've landed, where you've landed?
Bewindi Bobb:
Yes, no, absolutely. You know, this is interesting. Um, I know that for a long time, I wanted to do some private factors. Um, I know that initially when it comes to all things counseling and being a social worker, I ran away from it for it for a little bit. I have the story like Jonah in the Bible. I tried to run away from it and me being born in the Caribbean since passed and Lucius specifically moved, moved around from some bullshit to the Virgin islands, lived there for a year or so. And we moved to Columbus, Ohio in 97. Um, I initially when I went to grad school in San Louis Washington university, and at that point, I needed to buckle down and, and decide a focus in a specific arena. So I got my master's in social work at Washington, San Louis, and the first job in Memphis was U villages.
Bewindi Bobb:
And so I started working there and I actually loved that work. I loved working with the kids. I specifically love working with family therapy and providing family therapy. I knew that I wanted my license. I knew that there was something in me to provide counseling. I knew that I did not know exactly what it was going to look like, but I knew that there was a passion, um, kind of burning in me early age, early at the earliest stage. So got my license, did some consulting, did some evidence practice supervision. I enjoyed the supervision piece. I really enjoyed specifically for providing supervision and also promoting leadership and development of other clinicians and joy that work. And so, you know, time went on, it's been about almost eight years of villages by then. I was licensed as a licensed medical social worker in 2010 and, um, continue to do some medical, social work, continued to do some different things along my journey.
Bewindi Bobb:
Um, I also did some work around helping them develop a IOP program for adults with intellectual disabilities and mental health diagnosis. I have been a director of case management services, and, um, most recently I worked with a Amerigroup and did some case management work as, but I knew all along. If I want to look at previous journals, it would say one day, I'm going to have my own office. I'm going to be teaching. I'm going to be doing some podcasting, some speaking, something. Now, you know, the podcast came later on, but I just knew that that was something I was going to do. And for me, counseling is not just the job counseling and doing the ones that I do is more of a ministry for me. Um, I've served lots of people I've been doing private practice specifically since 2017. And, um, that's pretty much how I got to, to the journey in terms of where I am today. Right,
Gordon Brewer:
Right. Yeah. I love, I love hearing as always with everyone, just that kind of the story of how you've landed, where you've landed. So, yeah, I think one of the things that was, um, that I think a lot of people would be curious about is how did you make that transition from
Bewindi Bobb:
Agency work into private practice? And what did that look like for you? Oh, that's a great question. Um, you know, w I start with my most recent job just to point all the details, um, with my most recent job, I really appreciate, uh, my, my most recent job. So just a little before my most recent job, I worked as a director at case management company called case management in Memphis, Tennessee. And I was the director of adult services and really, really enjoyed that work. And, um, the Lord used me to, to promote people were very despondent and very discouraged. They had gone through a lot of things that our agency, it was a predominantly black agency. So there were a lot of issues in that agency. And, um, I was able to, you know, help to promote my morale and develop, you know, just interventions.
Bewindi Bobb:
And so it didn't really sit well with some people let's just say. And so I was, uh, terminated wrongfully, but I was going, I was terminated, left with left with integrity, but I also, I prayed God, I need a job that I can have flexibility and autonomy. I had already been doing private practice and balancing both the full time job and private practice. And that's hard leaving work at five and running across the highway to my office to provide clients and working with clients in the nighttime, in the weekends. That's tough. I don't even know how I didn't know. So once I got terminated in March of 2018, I got hired on at Amerigroup, which was the ideal job to continue doing my private practice because I had the flexibility I was working from home. I had the autonomy, I started out as a behavioral health case manager, just helping to close the gaps for parents to be able to lead them to services, whether it's at home therapy or, you know, med management, et cetera. And so I got promoted at that job as a behavioral health program manager, but once I got into the role still doing private practice, in addition to my job, I kind of hit this place where I started to feel miserable.
Bewindi Bobb:
I felt like my job was no longer fulfilling. I enjoyed the people that I worked with, but I just felt really, really empty. I felt in terms of this is not fulfilling. This is not what I want to do. How long I started asking the questions, how long do I want to stay in this place? And why am I allowing myself to stay in the place that I'm not fulfilled when I have a whole passion and a whole ministry, like a whole ministry that God has blessed me with. There are many clients that want to work with me, but I couldn't because at the time and all, you know, all the things in terms of balancing two jobs. And so for me, I'm very purpose driven. It's something doesn't fulfill or meet a purpose. I start to kind of get a little bit like we need to do something.
Bewindi Bobb:
So I started to talk to my accountability partners, my friends, and I was just like, you know what? This is miserable. I prayed definitely about it. And my friend, I also sat down and did the finances. I just, in my mind, it was like this whole thing of, I can't. Once I started to look at the finances and ask myself, how much do I really pay with personal expenses? How much does it take to pay my business expenses? How much do I need to make, to pay both of that? And then all of a sudden, once I did that, my mind started to open up a little bit. I started to see possibilities instead of obstacles, right? And so my friend was like, well, friend, why don't you just identify an exit date? And I was like, you know what, I'm going to identify an exit date.
Bewindi Bobb:
So initially identified my exit date is December, 2020. I was like December. I started telling my friends because once that, once I said it, it was going to be gold. And then I started to feel burnt out. So when I started to feel burned out, I said, well, what do we do when we burn down? The solution usually is take a break, right? Go take a vacation, take some time away. So I took a vacation while I was planning the vacation. And then one day I said, you know what, let me just type up the resignation. At this point, I had already opened up my mind. I had seen opportunities. I have become stronger and stronger. I typed up the resignation and one day on June the June, the ninth, 2020, I decided to just send it, just send it to just type it and send it.
Bewindi Bobb:
I sent the resignation, my energy initially, after I've been working with a consultant talking about the same things, just to kind of give them additional. Sometimes we need a person to person. And so, um, I sent it and Gordon, it felt so liberating. I sent the resignation, took a few days off and I gave them a month. I could've given him two weeks, but I gave them a month and I am so excited and proud of myself. And I did that. And so I made the jump on June the ninth with officially my last day being July the 10th and started full time, private practice on July the 13th.
Gordon Brewer:
Wow. So this is just all recently, I mean, Oh, wow. Wow. That is cool. Yeah. Well, congratulations on that, right.
Bewindi Bobb:
Thank you so much.
Gordon Brewer:
Yeah. And then w and what I hear from you is what I hear from a lot of folks is that they, um, they, they, which I think it's a good, it's a smart idea to try to not quit your full time job or your, you know, that, uh, I think the hardest part about kind of pulling the plug so to speak is that security that we feel of, okay, here's a steady job. And the thing that is, you know, is that with private practice, it kind of waxes and wanes, and there's this kind of a little bit of a roller coasters income and all of that sort of thing. And so it's just really scary. And it sounds like you really absolutely did all of the right things and that you drew on your supports. And it sounds like you've, um, you know, you, you've talked to consultants and all of that sort of thing, and, and you did your numbers and all of that, and it just, um, just fell into place. And I think, and I'm sure I know, uh, just because of my own faith experiences is that that's just kind of, I call it if you're following the right way, uh, things just kind of fall into place. I think.
Bewindi Bobb:
Yes, that is my, absolutely. That is my choice as well. Yeah.
Gordon Brewer:
Yeah. So that's, that is so cool.
Bewindi Bobb:
And I think I've wanted to make the jump. I think I've wanted to make the job that I think, I know I wanted to make this jump way long time, but I only focus on the reasons why not, or the reasons why I couldn't, I only focused on seeing obstacles, but I've never really sat down and just really, you know, did the numbers. And I also, I'm always working on debt cancellation. So I paid off my truck and I'm down to one more debt, which is a student loan. And so in my mind, I have been working towards that Ramsey baby steps, you know, and, um, I've been always wanting to make this job. And so it's almost like a forced focus on while we can't, we don't focus on going or doing something. So we only see, Oh my gosh, it's too scary. But I kept telling myself it's too scary. Even if, even though I am a woman of strong faith, but I kept telling myself it's too scary. But once I jumped, my schedule is so full. I jumped, I jumped, but it's not like a jump onto, you know, in, in a dark place or in a scary place. I really jumped on to provision and abundance and right. And even in the,
Gordon Brewer:
In the, and it sounds like you've done this in the midst of the COVID pandemic and just all of that. So that's phenomenal. So are you doing a hundred percent tele-health are you a mixture or what it's, how's that working for you?
Bewindi Bobb:
Yeah, that's a great question. I'm doing a hundred percent telehealth. I've been doing telehealth since March. Um, and I have just been very authentic and very genuinely honest with my clients that I will not, I'll probably not go back to the office, whether the rest of the year, um, equal have been really adapting and adjusting or have maybe one or two classes like ms. Bob, I'm getting what I need through the telehealth, but I really miss your couch, you know, instead of my couch. And so I had to have a couple of clients that missed being in the office, but so far, um, I am doing a hundred percent help.
Gordon Brewer:
Right, right. Well that's yeah. And I think, uh, a lot of us, I know I'm just in, within the state of Tennessee, I know Memphis has been hit hard with COVID and, um, it's, it's starting to, we're starting to see on our end of the state. We were, but Wendy and I were talking before we started the podcast, we are, we are literally on opposite ends of the state I'm in the Northeast corner, she's in the Southwest corner. And so, um, yeah, so it's, um, yeah. And so, um, we're, we're probably gonna switch back to a hundred percent telehealth as well, just because of that, that increase. So, yeah. So yeah, so I love your story and it's just so inspirational. Um, and I hope that those of you that are listeners can kind of learn from this in terms of just, um, what Wendy is saying is, is that just being able to, to focus on more abundance than scarcity, um, is kind of the way I put it. And, um, and just really look at, you know, we can come up with a hundred million reasons why we shouldn't do private practice, but, um, there are, you know, probably it's better to look at why you should, rather than shutting and, and quite honestly, and you might, you might be able to say something to this, but Wendy is, it's probably private practices and for everyone, um, it's not, yeah, you've got,
Bewindi Bobb:
It is not. I mean, you have to know, I go back to the purpose and your, why you, I cannot be doing things just because everybody else is doing it. You know, people tend to go along with the current of things, just because it seems like to be the trend, but I think it's important for anybody. And I have, I've had to do this to, for anybody to really think about and reflect on what is the, why behind, why I'm doing this decision. What is the, why, what is the purpose? Is this happening? Is this my assignment? Is this, is this my purpose? Is this for me? Or am I just trying to, you know, mimic somebody else's path or somebody else's. So just because, just because I have my license does not mean that I have to jump in private practice and some people just need to stay in a group practice. Some people actually love being in a group practice, and that doesn't mean they have to jump out and go solo. So I am a solo practitioner. I absolutely love it. I have no regrets in terms of starting that. Um, but I did, I think it just all goes back to when I think about doing something, why, why am I doing it? What does this have to do with the purpose for me, a set of parts of me to do it.
Gordon Brewer:
Right. Right. And you're, you're, you're saying exactly. Yeah. I, I, yeah, you're speaking truth because that's exactly the same thing out that people hear from me all the time. You got to start with why as to why you want to do that. And it sounds like for you that you're a big part of your, why was which I think for a lot of folks in private practice is wanting that autonomy and that freedom of being able to have the flexibility of schedules and all that sort of thing. Um, and, uh, you know, I know with what, um, what, I've, what we've been experienced in our family, my wife had a major surgery surgery this past week, as we're, as we're recording this. And if I hadn't been in private practice, it would have been almost impossible to navigate. And so, yeah. And so that's a big part of it. And then, uh, I think too, with private practice, you have to have a bit of that drive that you have.
Bewindi Bobb:
I mean, you've got to be,
Gordon Brewer:
To be a good self-starter, you've got to have a bit of an entrepreneurial spirit to you and, and all of that, so yeah. Yes, yes. Right, right, right. And so, yeah, yeah, absolutely. So well, but Wendy, this is, this is great stuff. And, um, I can tell already we're going to have more conversations in the future, but if it's okay if we switch gears a little bit, because I think it's so pertinent right now with all that we're going on. And particularly as a, as a black woman and, and all that your, you know, your life's experience and everything, what are, what are some things that you're noticing about our, our movement with the black lives matter and the changes that that's making maybe in your practice or just life in general?
Bewindi Bobb:
I think the way that I can answer that question is, um, because of my values, you know, so I have a set of values that anchor my practice, my business, and I have a set of values that anchor me personally, they're very, very similar. Um, but faith is a huge value for me. That is the biggest value me in addition to the social work values of service and integrity and dignity and worth of a person and all of those values. And so if I want to combine, you know, the values that anchor my business or faith and encouragement and empowering, and, um, uh, you know, just, just really making sure that I'm also teaching as well. And so when I, if I want to combine all those values together, my black lives do indeed matter. But what I also believe, I do believe all lives matter, according to my faith, according to, because I know that, you know, Jesus died, if that's appropriate on your podcast, Jesus died to break down the wall supposed to hostility.
Bewindi Bobb:
And I know that there's a lot of that going on, but yes, it is a significant message. I am so honored that almost 99% of my practice or I, you know, all black, uh, black people. Um, and they, they are so honored. I'm honored to work with them. They're honored to find somebody that's there to be able to help them, you know, with all things COVID and people are reaching out to therapy. I think one of the messages that I can take from this and I hate, but it took movements and it took, it took a pandemic to really encourage people, to make the call and invest in the mental health, mental, sick, and mental health, as we know, is a stigma in the black community and in a lot of, not just the black community, but I also have worked with Asian Americans and it's the stigma along, other, other ethnicities as well.
Bewindi Bobb:
And so I hated it took things like this to happen for people to really make the call and seek mental health. But I do see an increase of black people, Asians, you know, different ethnicities, really coming out and saying, and showing them for themselves and saying, I need help. I need to process this anxiety. I'm feeling, you know, I'm feeling depressed, I'm feeling sad, or I don't know who I am anymore. And really, really kind of busting through, you know, overcoming their own fears of anxiety overcoming and really saying admitting I am angry and really underneath. If we want to look at every specific message underneath the violence, there are some deep rooted mental health concerns and issues. There are some depression. There is, you know, there is trauma all underneath of all of the whole message. There's a lot of unresolved trauma. There's a lot of losses.
Bewindi Bobb:
People have lost so much. And when I say loss, I'm not just talking about the death of a loved one, but the loss of what life could be, the death of what seller, you know, even now it could be for our kids. And so people are experiencing so many losses and they're so angry and yes, the movement creates a way to be able to, to, to, to give an outlet, have an outlet for their anger and hostility and for their feelings. And they want to be heard. And this has been something that's been going on for years. And I, I don't really know if it will, if it will stop happening because of just where we are, but I'm just really thankful that people are recognizing that, um, number one, they need the assistance that, that, that is important for them to be the best version of themselves.
Gordon Brewer:
Yeah. Yeah. Well, thanks. Yeah. And I think, um, we, we've gotta continue to speak truth to things and you know, it, you know, as I've, as I've learned and just, um, recognizing my own, um, you know, the, the blinders that I've had on for years, just growing up as a white male in the South and, um, not understanding what it's like to truly live in fear. I think that is the root of it, of it all is that we've got to stop causing other people's lives to be fearful and to, to live with that. And if it is, as we all know, if somebody lives with fear and anxiety, and that is the atmosphere they're in, it's going to affect their mental health and just think about, um, you know, I, I remember as we were talking about earlier, I think one of the things that was such a gift for me, um, was working for the agency that we work for youth villages.
Gordon Brewer:
And we worked with, you know, particularly in where I started with them, worked in their, in intensive, in home health program and, um, going into homes and situations where just people were living in poverty and just living and, and terrible conditions and, and all of that. And it's a fearful, it's a fearful place to have to live. And then just dealing with their parents, you know, kids dealing with parents, mental health issues and all of those kinds of things. And so I think the more that we can shine a light on all of this is where we're going to make the change. And I'm, so I'm thankful for you the windy for just doing what you're doing. I mean, it sounds like you're, you're really, you're, you know, you're doing, uh, to use the, this term just kind of sacred work and trying to help people and breaking the stigma and all of that. So, yeah. So thanks for sharing.
Bewindi Bobb:
Absolutely. And I know, I know with all things pandemic, it just complicates it because we're already dealing with, you know, black people, you know, all people we're already dealing with their own resolve stress on resolve, you know, grief on resolve loss. And then you, you lock them all in the house, right. They no longer have their patterns and all longer have their routines. You know, it was easy to hide and put on the mask. And that's, I work with people who kind of wear the mask, right. And they want to take the mask off, but it was easy to put on the mask, you know, behind words behind, uh, going to a church service. So behind going to the bar, going to a party, going to the movies, it was easier to mask all those things with, with, by doing these things, by having these routines and things in place.
Bewindi Bobb:
And then you take that away. You take the, you know, people not able to visit their loved ones for some people that's very, very difficult right now. And, and so they're left to all of these emotions without having an outlet. That's a lot of emotions. That's a lot of emotions that has to come out. And unfortunately, we've been seeing it coming out the inappropriate way, but people have not, people have a right to feel. They have a right to feel for some of us, for some of the people they haven't. Um, we haven't been giving ourselves permission to feel, you know, without feeling judged, without feeling, you know, without saying that, you know, for example, just because of black person may express their frustrations sometimes maybe perceived as the angry black woman or the angry man. And they're not even, they may not even be angry.
Bewindi Bobb:
They may just be asserting themselves. And so I am so thankful to be in this space of therapy and even coaching, you know, to be able to help people find their voice and to be able to say, no, you have a right to say, I feel, or I want, or I need, of course how you do it is important. Right. But you have a right to give yourself permission to feel. And, and, and I'm so thankful for the space that we have that people don't have to feel judged. You know, they have the great embrace space and bold space to just, you know, heal.
Gordon Brewer:
Yeah, yeah, yeah. I would, yeah. I think you're exactly right. I think the grief is what I think about with, with all of what we're going through the pandemic and just all of it. Um, excuse me, a second. Sorry. I had a tickle in my throat, but, but one, uh, you know, one of the things too with just being, um, having to do the social distancing and, and being, having to cut ourselves off from people, um, that that's just, that's just damaging to the human psyche, I think because we absolutely need each other. And, and we also need to be able to share our grief. Uh, there's some reminded of what are my, when the person that I've always liked, uh, dr. Alan Wolfelt's, who's, uh, a grief expert, I guess you could say. And he always said, you know, grief shared equals grief diminished. And so we have to be able to share our hurt, share our anger, share all those feelings, as you said. Um, and, and it's okay to do that. Yeah. So well, but Wendy, I want to be, be mindful of your time and, and just, I'm so grateful to you for joining me on the podcast. So tell folks a little bit more about how they can get in touch you if they'd like to, and, and you've got a podcast too, as well. So tell an editor that, so tell folks a little bit about that and how they can get best to get in touch with you.
Bewindi Bobb:
Yeah. Thank you, Gordon. I really appreciate that. So my podcast is called empowered to empower you podcast. And it's a pocket. I love doing the podcast. It's a podcast. That's about all things, Jesus Christ in mental health, if anything, anything designed to help people be the best version of themselves, or just help to change their mindset. Because I believe mindset is everything mindsets. That's the course where everything that we do, whether that's personally or professionally. And so I talk, I've talked about things like choosing peace and just recently I record on Sunday. So it's always released that just released episode number 29, called love letters. So people can find the podcast and the love letters is super awesome. It's just bless my heart, just doing it. And it's really about, there's a hope I talk. I just kind of highlight a few love matters from the Bible, but I kind of say it as if it's a love letter, because love letters are magic.
Bewindi Bobb:
I love receiving love letters. I don't know about you Gordon. I don't even know if people do it anymore, but as a mentor really encourage us. They come at the right time to help inspire us and help remind us that we mean something that we matter, that we are valuable. And so people can find that podcast on iTunes, on Podbean, on Spotify, et cetera. So I just love doing that. It's just my little outlet that I love to do for fun. In terms of my practice, people can find my website. It's www dot [inaudible] dot net. People can also call me at (901) 319-9677. I can be found on psychology today.com. I can also be found on therapy for the black girls. I am listed on a direct online directory for the black girls. I'm also found on online pockets. That's what we learned about the online counseling.com online pockets. Give me online counseling.com. I actually learned about the online counseling.com. I believe you had a person. What's his, I forgot his name. Excuse me. Yes. At clay Cockrill I, by listening to this podcast, I was able to learn of the online counseling directory and signed up. So I am on listed on there as well. So people could find me
Gordon Brewer:
And we'll be sure and have all links to all of these things in the show summary and shows as show notes. So, but when I'm sure we'll be in touch again and just with, with all, uh, I'm so happy to share for you to share your story.
Bewindi Bobb:
I'm looking forward to chatting again. Yes, sir. Thank you for having me, Gordon. You're welcome.
Being transparent… Some of the resources below use affiliate links which simply means we receive a commission if you purchase using the links, at no extra cost to you. Thanks for using the links!
Bewindi's Resources
901.319.9677
bewindi.bobb@outlook.com
Resources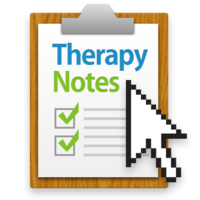 Meet Gordon Brewer, MEd, LMFT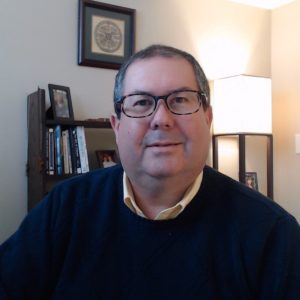 Gordon is the person behind The Practice of Therapy Podcast & Blog. He is also President and Founder of Kingsport Counseling Associates, PLLC. He is a therapist, consultant, business mentor, trainer, and writer. PLEASE Subscribe to The Practice of Therapy Podcast on iTunes, Stitcher and Google Play. Follow us on Twitter @therapistlearn and Pinterest "Like" us on Facebook